Linda Watkins  – Singer/Songwriter and guitarist – but it doesn't end there. I also enjoy playing mandolin and bodhran and own an assortment of more unusual instruments including Portuguese Guitar, Puerto Rican Cuatro, Greek Bouzouki, Cittern and Dulcimer which often sneak their way into my performances!
My songs reflect a very varied set of musical influences and there is something for everyone in my performances!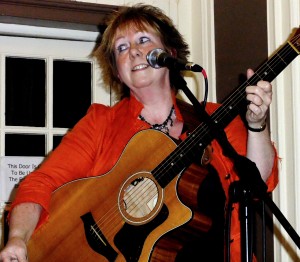 I'm quite happy in a small venue or on the larger stage playing for birthday parties, at folk and music clubs and on large festival stages!  (Over the years I have developed excellent MC skills which often see me booked to anchor festival and concert stages)
I love my music and hope to share my passion for it with as many of you as possible – if you'd like to know more, then why not come along to one of my shows? (see calendar page for gigs and events)….
If you'd like to hear my music in your club or at your event, please drop me a line by email and I'll do my very best to get there!